Loading ....
Despite the massive flight cancellations at Hong Kong's airport, travelers are still arriving as the clashes between pro-democracy protesters and police escalate, CNN reports.
Hong Kong officials have cautioned passengers against coming to the airport, but some travelers — who have been unable to leave the country for two days — have ignored those warnings in the hope of catching one of the few flights that are taking off.
The protests in Hong Kong have turned increasingly violent as pro-democracy demonstrators clash with police wielding pepper spray and batons.
The Washington Post reports:



Later in the evening, a group of demonstrators … seized a man they suspected to be an undercover Chinese police officer, cable-tied his hands and refused to let him through a large crowd. The incident showed increasing brazenness on the part of demonstrators in confronting what they perceive as symbols of the Chinese state.

Police entered the airport to help the man, whom paramedics tried to remove on a stretcher. The presence of officers sparked chaos, as protesters spilled out of the airport and began attacking police vans with officers inside.

At one point, an officer was overrun and his baton taken by protesters, who beat him with it. The group retreated only after the officer appeared to pull his gun from its holster.
Trump told reporters in New Jersey that the protests in Hong Kong were a "very tough situation," but he predicted that it would "work out."
"We'll what see what happens," Trump said before boarding Air Force One for an event in Pennsylvania. "But I'm sure it'll work out. I hope it works out for everybody, including China, by the way."
Here's where the day stands so far:
The Hong Kong protests appear to be escalating. US politicians from both parties have voiced support for the pro-democracy protesters, but Trump has focused his tweeting this morning on mocking CNN host Chris Cuomo and bashing the New York Times.
The Trump administration announced some of the tariffs on Chinese imports, which were set to go into effect on Sept. 1, would be delayed until Dec. 15. Certain goods would be excluded from the tariffs altogether. US markets rallied after the policy shift was announced.
The Democratic attorneys general of Massachusetts and California pledged to sue the Trump administration over its planned overhaul of the Endangered Species Act.
The blog is covering the latest developments from Hong Kong and Trump's trade war, so stay tuned.
Clashes between pro-democracy protesters and police appear to be escalating at the Hong Kong airport.
As the face-off intensifies, US politicians from both parties have voiced support for the protesters. From Trump's former UN ambassador:
From the Democratic House speaker:
And from former Democratic presidential candidate Hillary Clinton:
Ken Cuccinelli, the acting director of US Citizenship and Immigration Services, is facing criticism and mockery for offering an edited version of the poem that appears on a plaque at the Statue of Liberty.
Our colleague Edward Helmore reports:



The famous lines, taken from The New Colossus by the 19th-century New York poet Emma Lazarus, read: 'Give me your tired, your poor, your huddled masses yearning to breathe free.'

In a radio interview on Tuesday, Cuccinelli offered a change: 'Give me your tired and your poor who can stand on their own two feet and who will not become a public charge.'

On NPR's Morning Edition, Cuccinelli defended the Trump administration decision to make it harder for migrants to be awarded permanent residence, or a 'green card', if they have ever accepted benefit programs such as food stamps, housing assistance or Medicaid.
Many critics of the new "public charge rule" have cited the Statue of Liberty poem to argue that the policy goes against American values, including the mayor of Seattle:
A Democratic congressman, Representative Ted Lieu of California, struck back against Trump's false claim that China would bear the cost of the president's trade war:
Lieu's tweet came as the Trump administration announced some of the tariffs on Chinese imports, set to go into effect on Sept. 1, would be delayed until Dec. 15.
Democratic presidential candidate Julián Castro has released a new ad responding to attacks from Trump against him and his brother, Representative Joaquin Castro.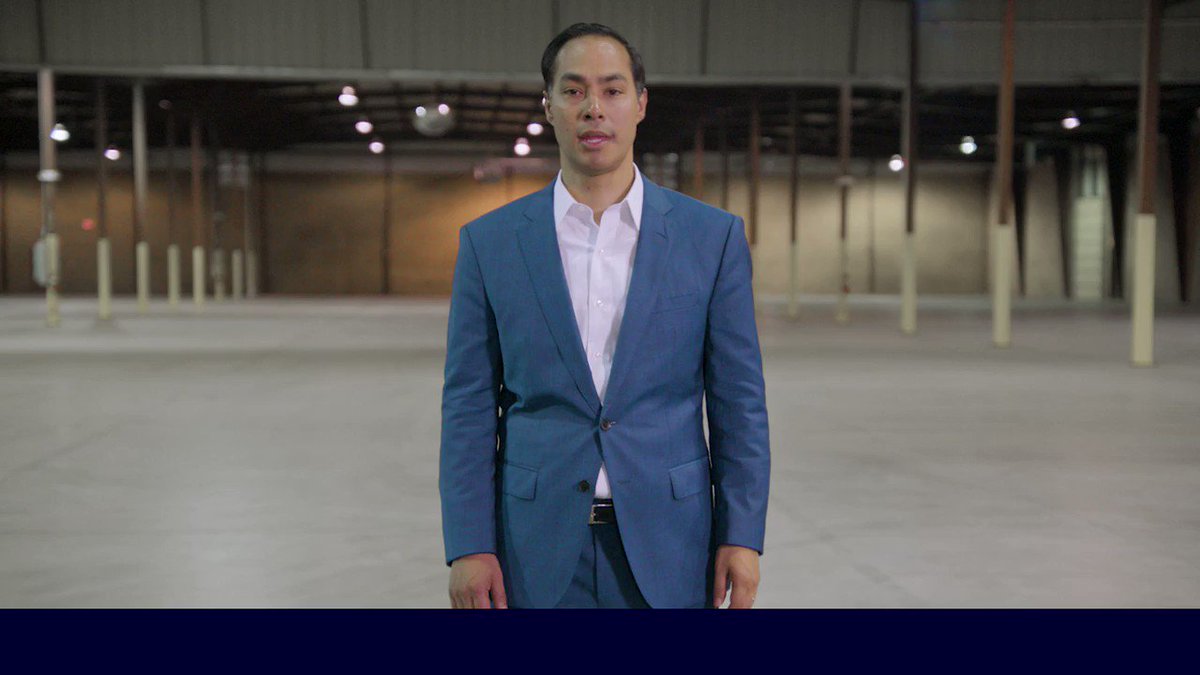 "President Trump: You referred to countries as shitholes. You urged American Congresswomen to 'go back to where they came from.' You called immigrants rapists," Castro says in the ad.
He goes on to link Trump to the recent shooting in El Paso, which left 22 people dead. "As we saw in El Paso, Americans were killed because you stoked the fire of racists. Innocent people were shot down because they look different from you. Because they look like me. They look like my family. Words have consequences."
The ad is clearly meant to incite a response from Trump, given that it will air tomorrow during Fox News programming in Bedminster, New Jersey — where the president is currently on vacation.
Trump went on a Twitter tirade against the Castro brothers last week, after Representative Joaquin Castro shared a list of the president's donors in his congressional district. Some of Trump's allies accused the congressman, who chairs his brother's presidential campaign, of "doxxing" the supporters — even though he shared no private information.
"I don't know who Joaquin Castro is other than the lesser brother of a failed presidential candidate (1%) who makes a fool of himself every time he opens his mouth," Trump tweeted last Wednesday. "Joaquin is not the man that his brother is, but his brother, according to most, is not much. Keep fighting Joaquin!"
The ad also comes as Castro fights to make the cut for the September debate stage. He has already crossed the donor threshold and needs only one more qualifying poll to participate.
Democratic presidential candidate Tom Steyer announced his campaign has hit the donor threshold required to qualify for the fall debates.
Steyer has also registered at 2 percent or higher in three qualifying polls, leaving him just one shy of making the debate stage.
As Steyer's campaign noted in a statement, the billionaire activist has surpassed other candidates who entered presidential race months before he did. "Since entering the race five weeks ago, our priority has been getting Tom's message out to the American people," said campaign manager Heather Hargreaves. "Tom reaching this milestone just five weeks into his campaign is proof that his message is resonating with people across the country."
Nine Democratic candidates have already made the cut for the next round of debates, and Julián Castro similarly remains one poll away from qualifying. But the dozen or so other candidates have a lot of ground to cover if they want to participate next month.
The Dow closed down nearly 400 points yesterday amid mounting concerns about Trump's trade war. After his administration announced the delay of some tariffs on Chinese imports, all of those losses were recouped.
It's worth noting that Trump frequently brags about the strength of the stock market during his presidency. It has become a key talking point for him on the campaign trail, and he does not likely want to give it up — even for the sake of his trade war.