Loading ....
President Trump said he intends to nominate Christopher Waller, an executive vice president at the Federal Reserve Bank of St. Louis, to a seat on the central bank's board of governors.
He also said he intends to nominate Judy Shelton to the board as well.
Make America France/Brazil/Turkey Again? The Associated Press is reporting that the supporters featured in campaign President Trump's reelection campaign Facebook ads are actually models – and the video footage is produced as far away as France, Brazil and Turkey:



"Thomas from Washington," featuring the bearded young man behind a coffee shop counter, appeared aimed at evangelicals, with the voice-over quote saying the president and his family are "in our prayers for strength and wisdom from God almighty." ″AJ from Texas" seemed focused on Hispanic men. And "Tracey in Florida" was aimed specifically at a demographic in which Trump is historically weak — young women.

All are models for Turkish, Brazilian and French companies, respectively, that supply hundreds of photos and video to the popular site iStock run by Getty Images, which caters to publications, filmmakers and advertisers looking for professional, inexpensive imagery.

According to the site, licenses for the video clips used in the Trump ads can be had for as little as $170.

The blonde on the beach appears to be particularly prolific. Her photos and videos from the French company Tuto Photos in Roubaix, France, show her twirling in a wedding gown, walking spaniels in a meadow, getting her teeth checked at the dentist and working in a warehouse.

And the star of iStock's "Bearded and tattooed hipster coffee shop owner posing" — also known as Trump's "Thomas from Washington" — is a fixture on the videos and photos contributed by the company GM Stock out of Izmir, Turkey. His unmistakable beard and tats can be seen on the image site strolling with a woman on the beach, sitting by a campfire and pumping iron in the gym.
At least we're not talking about the tanks anymore.
Commerce Secretary Wilbur Ross has made a statement on the 2020 census going forward without the citizenship question: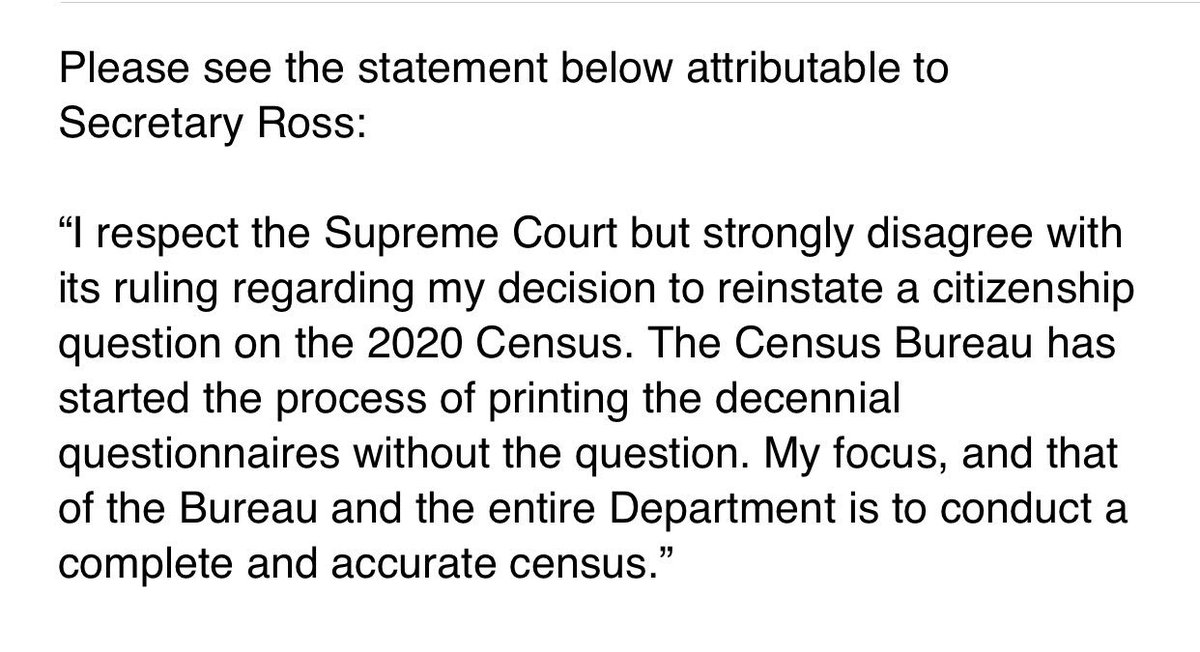 Almost 500 scholars signed an open letter to the US Holocaust Memorial Museum, asking it to rethink its statement in which it rejected comparisons between migrant detention facilities and concentration camps.
The museum issued a statement saying that it "unequivocally rejects efforts to create analogies between the Holocaust and other events, whether historical or contemporary" after Representative Alexandria Ocasio-Cortez drew ire for calling the detention facilities concentration camps.
As of 2:30pm, 492 scholars have signed the letter calling for the museum to retract its statement:



We are scholars who strongly support the United States Holocaust Memorial Museum. Many of us write on the Holocaust and genocide; we have researched in the USHMM's library and archives or served as fellows or associated scholars; we have been grateful for the Museum's support and intellectual community. Many of us teach the Holocaust at our universities, and have drawn on the Museum's online resources. We support the Museum's programs from workshops to education.

We are deeply concerned about the Museum's recent "Statement Regarding the Museum's Position on Holocaust Analogies." We write this public letter to urge its retraction.

Scholars in the Humanities and Social Sciences rely on careful and responsible analysis, contextualization, comparison and argumentation to answer questions about the past and the present. By "unequivocally rejecting efforts to create analogies between the Holocaust and other events, whether historical or contemporary," the United States Holocaust Memorial Museum is taking a radical position that is far removed from mainstream scholarship on the Holocaust and genocide. And it makes learning from the past almost impossible.

The Museum's decision to completely reject drawing any possible analogies to the Holocaust, or to the events leading up to it, is fundamentally ahistorical. It has the potential to inflict severe damage on the Museum's ability to continue its role as a credible, leading global institution dedicated to Holocaust memory, Holocaust education, and research in the field of Holocaust and genocide studies. The very core of Holocaust education is to alert the public to dangerous developments that facilitate human rights violations and pain and suffering; pointing to similarities across time and space is essential for this task.

Looking beyond the academic context, we are well aware of the many distortions and inaccuracies, intentional or not, that frame contemporary discussions of the Holocaust. We are not only scholars. We are global citizens who participate in public discourse, as does the Museum as an institution, and its staff. We therefore consider it essential that the United States Holocaust Memorial Museum reverse its position on careful historical analysis and comparison. We hope the Museum continues to help scholars establish the Holocaust's significance as an event from which the world must continue to learn.
The New York Times is reporting that the National Rifle Association is experiencing some turmoil. One of the group's major benefactors is working with other to donors to withhold monetary contributions until the group's chief executive, Wayne LaPierre, is ousted:



David Dell'Aquila, the restive donor, said the N.R.A.'s internal warfare "has become a daily soap opera and it's decaying and destroying the N.R.A. from within, and it needs to stop." He added, "Even if these allegations regarding Mr. LaPierre and his leadership are false, he has become radioactive and must step down."

Until that happens, Mr. Dell'Aquila, a retired technology consultant who has given roughly $100,000 to the N.R.A. in cash and gifts, said he would suspend donations — including his pledge of the bulk of an estate worth several million dollars.

He said he was among a network of wealthy N.R.A. donors who would cumulatively withhold more than $134m in pledges, much of it earmarked years in advance through estate planning, and would soon give the gun group's board a list of demands for reform.

That dollar figure could not be verified, however, and Mr. Dell'Aquila declined to provide a list of the other donors, who he said were not ready to go public. But a second prominent donor, who spoke on the condition of anonymity because he is a senior firearms industry executive, said he was also suspending a plan to give more than $2m from his estate, as well as halting other donations, and was backing Mr. Dell'Aquila's effort.

"The donors are rebelling," the executive said, adding that he believed that the leadership turmoil was "helping to destroy, temporarily, the strength of the N.R.A. as one of the strongest lobbying groups."
Another odd twist in the sudden cancellation of Vice President Mike Pence's New Hampshire event today:
House Speaker Nancy Pelosi sent a letter to President Trump about migrant children and their families on the border, and reiterating her desire to implement protections for them administratively.
In the letter, Pelosi "respectfully" suggests that the president takes "several important, immediate actions as proposed in the House legislation":
The Department of Homeland Security establishes basic standards of care for individuals in the custody of US Customs and Border Protection, and that includes basic protocols for "medical assessments and emergencies; requirements for ensuring the provision of water, appropriate nutrition hygiene and sanitation needs; and standards for temporary holding facilities that adhere to the best practices for the care of children."
The Department of Health and Human Services should ensure that no children remain at "influx shelters" for longer than 90 days.
Congress should be notified within 24 hours when a migrant child dies.
Read the letter in full here.
Hey all, Vivian Ho taking over for Kari Paul and Jessica Glenza. Happy Tuesday.
Kari Paul, logging off after a brief blog stint! Passing along to Vivan Ho.
The Trump administration confirmed Tuesday the 2020 Census questionnaire will be printed without questions regarding citizenship status.
The administration was looking at delaying the census after the Supreme Court blocked a question regarding citizenship on the annual head count of people int he United States.