Loading ....
Having wrapped up his fundraisers in California, Trump is now headed to the border…
Ahead of his arrival at the border wall in Otay Mesa, California, the president has tweeted bilingual Spanish and English" "No more fake asylum… No more illegal entry into the United States."
Syracuse University's Transactional Records Access Clearinghouse, which keeps track of immigration data, announced today that the Immigration Court's active backlog of cases has just surpassed one million:



The latest case-by-case court records through the end of August 2019 show the court's active case backlog was 1,007,155. If the additional 322,535 cases which the court says are pending but have not been placed on the active caseload rolls are added, then the backlog now tops 1.3 million.
New cases of people who have been told to remain in Mexico while their case is processed, per the policy that Trump loves to tout, make up under 10 percent of the filings, according to the report.
Iran
In Los Angeles, Donald Trump said his administration will be "adding some very significant sanctions onto Iran" but didn't provide reporters with any more details, noting that he'll be announcing the sanctions "over the next 48 hours"
Trump also said that he would grant Iranian president and foreign minister US visas so they can attend the UN General Assembly next week.
"I would certainly not want to keep people out if they want to come," he said. "Well, we're going to see what happens."
Neither US nor Iranian officials have announced plans for direct talks.
It's good afternoon from me, US politics watchers, I'm handing over at 5PM ET to my colleague on the west coast, Maanvi Singh, to take you through later events today, of which there are plenty.
Greta Thunberg is closing out the afternoon on the east coast by addressing Congress, so it will be interesting to see if she makes a speech, whereas this morning she told a committee hearing she simply wanted the science on the climate crisis to speak for itself, per the 2018 IPCC warning on the impending global climate catastrophe. Our Washington colleague, David Smith, will be at the event.
And Donald Trump is continuing with his events in California. He's just been obliquely ribbed by Barack Obama…
Here are the main events from the day so far:
Barack Obama has seemingly taken a swipe at Donald Trump, saying he would "advise, if you're president" to avoid social media and cable news, our west coast based technology reporter Kari Paul writes.
The former US president was speaking as a guest at an event earlier today for Splunk, an international software firm, called "The Beginning of Everything".
When he was asked how he parsed information while in office, he touted the importance of building a team to stay informed.
"The presidency is like drinking out of a firehose – you can't absorb that information yourself," he said. "You can make sure you have a team that is distilling info as effectively as possible so you can get a basic framework for what the problem is."
He didn't mention the sitting president's name, of course.
"The other thing that's helpful is not watching TV or reading social media," he added. "Those are two things I'd advise, if you're a good president, not to do."
The criticism appears to inevitably be targeted at Trump, who is known for his Twitter diatribes at all hours and obsession with cable news channels and how they portray him.
Trump has tweeted 284 times per month over the last six months, the Hill reports, an increase from months past. Despite the increased frequency, Trump is getting less engagement on his posts today, the report showed.
Obama said spending time on social media and becoming reactive to how polls and media portray you as president can make it more difficult to run the country effectively.
"It creates a lot of noise and clouds your judgment," Obama said. "You start mistaking the intensity or passion of a small subset of people with a broader sense of how a country feels – it will sway your decision in an unhealthy way."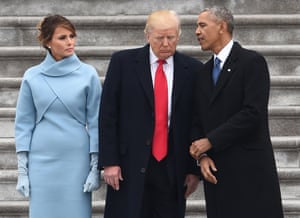 As tech execs from Facebook, Google and Twitter faced vigorous challenges from the US Congress at a hearing today on harmful online content, it emerged that lawmakers are drafting a bill to create a "national commission" at the Department of Homeland Security to study the ways that social media can be weaponized.
It will also look at "the effectiveness of tech giants' efforts to protect users from harmful content online", the Washington Post reveals in a story this afternoon.
The Post says its reporters have seen a draft of the bill, and that the commission would be empowered "with the authority to hold hearings and issue subpoenas" to examine how effectively social media companies patrol content on the internet.
The commission could suggest legislation and also "create a federal social media task force to coordinate the government's response to security issues."
This reflects increased congressional efforts to combat "online hate speech, disinformation and other harmful content" the Post reports, including holding a hearing today where Senators quizzed executives from Facebook, Google and Twitter.
Those testifying insisted the companies have become better and faster at detecting and removing violent extremist content on their social media platforms in the face of mass shootings fueled by hatred, the Associated Press adds.
They said they are spending money on technology to improve their ability to flag extremist content and taking the initiative to reach out to law enforcement to try to head off potential violent incidents.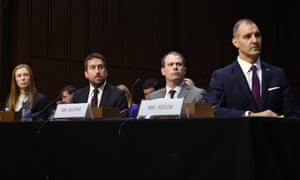 The representative from Minnesota just tweeted succinctly. Ilhan Omar is not impressed with the president's retweeting a falsehood about the congresswoman earlier today. The original tweet was taken down, but it sparked an outcry.
In case you were wondering, Trump is at a lunch event in San Diego right now, as he flits around California today on fund-raising and wall-visiting activities, as he tried to block the state from setting its own vehicle emissions rules.
He fired off a three-tweet volley on this a few hours ago.
Gun violence
National Parent Teacher Association president Leslie Boggs testified earlier today in Congress, before a House gun violence prevention task force forum titled: Impact of Gun Violence on Children and the Need for a Senate Vote on Universal Background Checks.
She said: "Thousands of children across the country have been victims of or witnesses to gun violence in their schools, homes and communities. Alongside their ABCs, kindergarteners are singing songs to remind them to run and hide during active shootings."
She continued: "For years, we have called for action and have said 'enough is enough.' Yet, too often, we have been met by 'thoughts and prayers' from our elected leaders. Our children and families deserve more than thoughts and prayers. Continuing to do nothing is unacceptable."
Earlier this year, the House passed its first major legislation on the gun control in nearly a quarter of a century, approving a measure requiring federal background checks for all firearms sales, including online and at gun shows, by 240 votes to 190.
Democrats characterized it as a significant move towards relaxing the gun lobby's grip on Washington and addressing a national epidemic of gun violence, including the deaths of 17 people at Marjory Stoneman Douglashigh school in Parkland, Florida, last year that prompted a fresh surge of activism.
But the bill has gone nowhere. The Republican-controlled Senate won't take it up because majority leader Mitch McConnell says he's not prepared to alllow debate or a vote on legislation he knows Donald Trump won't sign – and the president won't be putting his pen to such a bill.
Boggs said on the Hill today: "Conversations about school safety, gun safety and violence prevention cannot be just about video games, violent programming and mental health. Our nation's leaders must acknowledge and address the ease of access to firearms and weapons of war."
She concluded: "Background checks can and will save lives. This common-sense gun measure would have saved lives and prevented injuries in my hometown of Odessa, Texas."
She was referring to the mass shooting in Midland and Odessa last month, which followed on the heels of the other August massacres in Dayton, Ohio, and El Paso, Texas.
Meanwhile 2020 candidate Beto O'Rourke sped to the top of the media exposure ranks following the Democratic debate in Houston last week, according to Axios. This was after weeks of speaking passionately about gun control in the wake of the shooting in his home town of El Paso.
He promised a ban on and compulsory buy-back of assault weapons from civilians. The latest media exposure rankings were compiled by Newswhip via Axios.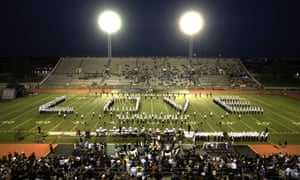 Trump not happy with rate trim
The president has expressed his wrath on Twitter.
Do tune into the Guardian's business live blog for all the fall-out, here.
Thunberg pronunciation
There has been a lot of serious news in the last few hours, but I must briefly return to the subject of Greta Thunberg's name and its correct pronunciation.
The people have spoken. Pronouncing Thunberg in a similar way to "Toonberry", not "Toonberg", is apparently spot on!
Thanks for the contributions. Here are some great tweets:
And this:
Committee chair and Democrat, Bill Keating, was a "Toonberry" person this morning, which is when it first caught my ear (tbh I didn't hear Greta clearly say her name, but the tweet that includes a clip of her introducing herself to European lawmakers does the job).
And one respondent on Twitter noted that Keating also finished by telling Greta "thanks so much" in Swedish.
And this: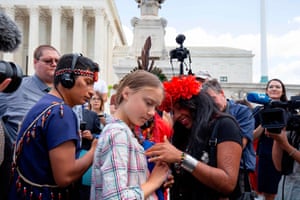 Fed cuts interest rates – but was split over it
NEWSFLASH: The Federal Reserve has cut borrowing costs by a quarter-point.
This lowers the Fed funds rate to 1.75%-2%. This is the second such cut in less than two months.
For all the action, please go to our business blog out of London.
"Low key loyalist"
Here's the Guardian's world affairs editor Julian Borger on Donald Trump's announcement this morning that Robert O'Brien will be his new national security adviser.
Donald Trump has appointed the state department's chief hostage negotiator – whose most prominent international role until now was monitoring the Swedish trial of the US rapper A$AP Rocky – to be John Bolton's successor as national security adviser, Julian writes.
Unlike his firebrand predecessor, O'Brien is seen as a low-profile loyalist, and his appointment is widely viewed in Washington as a win for the secretary of state, Mike Pompeo, who had competed with Bolton for the president's ear.
Trump named O'Brien, a California lawyer, on Twitter, just after a tweet announcing unspecified new sanctions on Iran in response to Saturday's attack on Saudi oil facilities.
The president is said to have been impressed with O'Brien's work on extracting Americans held in North Korea and Turkey. He made a rare appearance in the headlines when Trump sent him to Stockholm to monitor the trial of A$AP Rocky, a political stunt that infuriated the Swedish government.
You can read the full story here.
Trump's attacks on Omar
Donald Trump has made several racist attacks to demonize Ilhan Omar, of Minnesota, along with the other members of what is known in Washington as "the Squad" – Democratic party members of congress Alexandria Ocasio-Cortez, of New York, Ayanna Pressley, of Massachusetts, and Rashida Tlaib, of Michigan, all women of color, my colleague in the capital, David Smith, writes.
In his post retweeting Williams, the president asserted: "Ilhan Omar, a member of AOC Plus 3, will win us the Great State of Minnesota. The new face of the Democrat Party!"
The Washington Post noted Williams has a history of spreading conspiracy theories, including one last month that suggested the death of sex offender Jeffrey Epstein might be linked to former president Bill Clinton. Trump retweeted that claim and defended Williams as "a very highly respected conservative pundit" with "half a million followers" on Twitter, the Post added.
The Congressional Black Caucus Foundation's Annual legislative conference took place from 11 to 15 September.